Frank Stokvis
F.R. (Frank) Stokvis, MSc., Senior research analyst - Laboratories
Contact
Email: frank.stokvis@naturalis.nl
Phone: +31 (0)71-52 71 912
Room number: 6.4.17, Sylviusweg 72
After finishing my Msc thesis on Soft Corals in 2007, I turned to entomology. My main work encompasses the phylogenetic reconstruction of the Zygoptera and Anisoptera, using and developing multiple markers. In addition, I participate in research projects, provide support for publications and supervise students with advanced phylogenetic analyses. Furthermore, I work on DNA barcoding of the Dutch flora, fauna and fungi.

My work in the molecular facilities includes MiSeq and Ion Torrent library prep, genetic marker selection, PCR, phylogenetic analyses and stacking microscope photography.
Research
Phylogeny, biogeography and higher classification of the Zygoptera and Anisoptera
KD Dijkstra, Vincent Kalkman, Rory Dow, Matti Hämäläinen, Frank Stokvis & Jan van Tol
This project aims to understand the phylogenetic relationships and the historical biogeography of the Zygoptera, based on both morphological and molecular characters. We also aim to understand morphological and behavioural character evolution using phylogenetic trees based on multiple molecular markers.
Left to right: Rory Dow, Vincent Kalkman, Matti Hämäläinen, Jan van Tol, KD Dijkstra, Frank Stokvis
Statia Marine Expedition 2015
My blog: Getting the most out of the expedition
Naturalis Biodiversity Center started this year with a Caribbean programe. In this programe the diversity of plants, animals and fungi will be researched and mapped of the Dutch Caribbean. Since 2010 the islands Bonaire, St. Eustatius and Saba are special municipalities of the Netherlands. So far little is known about the diversity on these islands. With this programe we hope to change that for under water as well as above water. Several experts and partner organisations from the Netherlands and the Dutch Caribbean will join the expedition!
In June a marine expert team will be on St. Eustatius for three weeks to identify which species occur underwater. The largest partner organisations of this expedition is Stichting ANEMOON.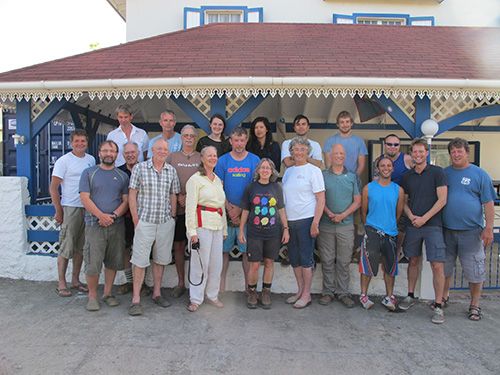 Participants Statia Marine Expedition 2015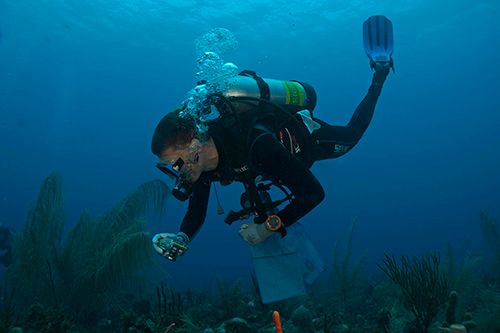 Me taking photographs for species presence/absence monitoring
Publications
2018
Y.W. Lau, F.R. Stokvis, L.P. van Ofwegen & J.D. Reimer. Stolonifera (Anthozoa, Octocorallia) from shallow waters in the north-western Pacific: a description of one new genus and two new species within the Arulidae. ZooKeys 790: 1-19. DOI: https://doi.org/10.3897/zookeys.790.28875
R.A. Dow & F.R. Stokvis. Odonata from Gunung Melatai and two other locations in Kapit Division, Sarawak, with a review of the genus Heliogomphus in Borneo, Peninsular Malaysia and Singapore. International Dragonfly Fund Report 122: 1-25. http://www.dragonflyfund.org
2017
V.J. Kalkman, K.-D.B. Dijkstra, R.A. Dow, F.R. Stokvis & J. van Tol. Out of Australia: the Argiolestidae reveal the Melanesian Arc System and East Papua Composite Terrane as possible ancient dispersal routes to the Indo-Australian Archipelago (Odonata: Argiolestidae). International Journal of Odonatology 21: 1-14. DOI: https://doi.org/10.1080/13887890.2017.1402825
D. Wall-Palmer, A.K. Burridge, E. Goetze, F.R. Stokvis, A.W. Janssen, L. Mekkes, M. Moreno-Alcántara, N. Bednaršek, T. Schiøtte, M. Vinther Sørensen, C.W. Smart & K.T.C.A. Peijnenburg. Biogeography and genetic diversity of the atlantid heteropods., Progress in Oceanography In Press. DOI: https://doi.org/10.1016/j.pocean.2017.11.004
R.A. Dow, F.R. Stokvis & R.W.J. Ngiam. Revision of the Genus Leptogomphus Selys in Borneo, including gene trees and a two marker molecular phylogeny (Odonata: Anisoptera: Gomphidae). Zootaxa 4358 (2): 201–257. DOI: https://doi.org/10.11646/zootaxa.4358.2.1
2016
L.M. van der Loos, W.F. Prud'homme van Reine, F.R. Stokvis, A.G.C.L. Speksnijder & B.W. Hoeksema. Beta diversity of macroalgal communities around St. Eustatius, Dutch Caribbean. Marine Biodiversity 47 (1), 123-138. DOI: https://doi.org/10.1007/s12526-016-0608-9
M. Bedjanic, K. Conniff, R.A Dow, F.R. Stokvis, R. Verovnik & J. van Tol. Taxonomy and molecular phylogeny of the Platystictidae of Sri Lanka (Insecta: Odonata). Zootaxa, 4182(1):1-80. DOI: https://doi.org/10.11646/zootaxa.4182.1.1
L.P. Mens, K. Schütte, F.R. Stokvis & K.-D.B. Dijkstra. Six, not two, species of Acisoma pintail dragonfly (Odonata: Libellulidae). Zootaxa, 4109, 153–172. DOI: https://doi.org/10.11646/zootaxa.4109.2
2015
V.S.F.T. Merckx, K.P. Hendriks, K.K. Beentjes, C.B. Mennes, L.E. Becking, K.T.C.A. Peijnenburg, A. Afendy, N. Arumugan, H. de Boer, A. Biun, M.M. Buang, P.P. Chen, A.Y.C. Chung, R. Dow, F.A.A. Feijen, H. Feijen, C. Feijen-van Soest, J. Geml, R. Geurts, B. Gravendeel, P. Hovenkamp, P. Imbun, I. Ipor, S.B. Janssens, M. Jocqué, H. Kappes, E. Khoo, P. Koomen, F. Lens, R.J. Majapun, L.N. Morgado, S. Neupane, N. Nieser, J.T. Pereira, H. Rahman, S. Sabran, A. Sawang, R.M. Schwallier, P. Shim, H. Smit, N. Sol, M. Spait, M. Stech, F. Stokvis, J.B. Sugau, M. Suleiman, S. Sumail, D.C. Thomas, J. van Tol, F.Y.Y. Tuh, B.E. Yahya, J. Nais, R. Repin, M. Lakim & M. Schilthuizen: Evolution of endemism on a young tropical mountain. Nature 524: 347-350. DOI: https://doi.org/10.1038/nature14645
M. Hämäläinen, R.A. Dow & F.R. Stokvis. Revision of the Sundaland species of the genus Dysphaea Selys, 1853 using molecular and morphological methods, with notes on allied species (Odonata: Euphaeidae). Zootaxa 3949 (4): 451–490. DOI: https://doi.org/10.11646/zootaxa.3949.4.1
2014
K.-D.B. Dijkstra, V.J. Kalkman, R.A. Dow, F.R. Stokvis, & J. van Tol. Redefining the damselfly families: a comprehensive molecular phylogeny of Zygoptera (Odonata). Systematic Entomology, 39(1), 68-96. DOI: https://doi.org/10.1111/syen.12035
2013
J. Smit, B.T. Reijnen & F.R. Stokvis. Half of the European fruit fly species barcoded (Diptera, Tephritidae); a feasibility test for molecular identification. ZooKeys, 365(0), 279-305. DOI: https://doi.org/10.3897/zookeys.365.5819
I. Sampaio, F.R. Stokvis & L.P. van Ofwegen. New name for the soft coral Alcyonium rubrum Stokvis & van Ofwegen, 2006 (Alcyonacea, Alcyoniidae): Alcyonium burmedju nom. N. ZooKeys 619(619):163-165. DOI: https://doi.org/10.3897/zookeys.619.10086
2012
E.J. van Nieukerken, C. Doorenweerd, F.R. Stokvis & D.S.J. Groenenberg. DNA barcoding of the leaf-mining moth subgenus Ectoedemia s. str. (Lepidoptera: Nepticulidae) by COI and EF1-α: two are better than one in recognising cryptic species. Contributions to Zoology 81(1): 1-24. http://www.repository.naturalis.nl/record/443278
2006
F.R. Stokvis & L.P. van Ofwegen. New and redescribed encrusting species of Alcyonium from the Atlantic Ocean (Octocorallia: Alcyonacea: Alcyoniidae). Zoologische Mededelingen, 80(4), 165. http://www.repository.naturalis.nl/record/198498
Some of my contributions to the Dutch species catalogue (Nederlands soortenregister)
Sepiola atlantica (dwerginktvis)
Sepia officinalis (gewone zeekat)